Don't hesitate to contact us!
Please fill in the form completely. We will contact you as soon as possible.
If you have a preferred communication time or method, please inform us about it.
Of course all of your data will be kept strictly confidential.
Gold Silver Wholesale
Uwe Groth

Karl-von-Hahn-Str. 125
72250 Freudenstadt
Germany
E-mail: uwegroth@gold-silver-groth.com
Website: http://www.gold-silver-groth.com
---

My handling of your data:
I pay highest attention to the protection of your data and the preservation of your privacy. Therefore, I inform you here about the collection and use of personal data when using my website.
You can visit my website without giving any personal information. I do not store any personal data in this context. I do not evaluate statistical data. Also, I do not use "cookies" anywhere on my website and do not work with any social media platform.
Collection, processing and use of personal data
I collect personal data (details about personal or factual circumstances of a specific or identifiable natural person) only in the scope you have provided (for example, to answer a request). The processing and use of your personal data is used for the fulfillment and processing of your requests to me.. After completion of the contract, all personal data are first stored under consideration of tax and commercial retention periods and then deleted after the deadline, unless you have agreed to the further processing and use. p>
Disclosure of personal data
A transfer of your data to third parties without your express consent is not happening. Excluded from this are only my service partners, which I need for the execution of the contractual relationship or if the transfer is necessary to fulfill a legal obligation. In these cases, I strictly comply with the provisions of the General Data Protection Regulation. The amount of data transmission is limited to a minimum. All data is stored in Germany and is subject to my personal care. p>
Information, correction, blocking and deletion of data
You always have the right to free information about your stored data and their processing, as well as the right to rectification, deletion or limitation of data processing, if I may not delete your data due to legal obligations. If you have given me your consent, you can withdraw it at any time with effect for the future. You can always contact the supervisory authority responsible for you with a complaint. p>
Updating and changing the privacy policy
This privacy statement is currently valid and is dated May 2018. By further developing our website or due to changed legal or regulatory requirements, I reserve the right to adapt this privacy policy so that it always meets current legal requirements. p>
If you have questions about your data and privacy, please contact me via email, telephone or in person. p>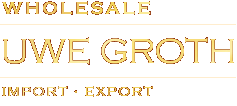 Fine Gold - / Silver Jewelry Wholesale
in Antique & Classic Styles.

Uwe Groth
Karl-von-Hahn-Str. 125
72250 Freudenstadt · Germany

http://www.gold-silver-groth.com

Huge stock - frequently updated with new arrivals!

Over 1000 different designs always available on a rotating basis.

Medium price range for silver jewelry
with prong set marcasites between
32 € and 90 € plus.
(see images on website)

Medium price range
with glued marcasites between
9 € and 28 €. (no images)

Our sale is limited to traders only, excl. of VAT (sales tax).
According to agreement, sale or examination of the merchandise may also take place at your premises, within the entire EU.

Our stock consists in part of unique objects or pieces only produced in small quantities. Therefore, no catalogue is available, as our merchandise is subject to continual updating.